Holiday season is all over! Parties, vacations, presents, family gatherings and delicious food — everything is exciting! Ohhhh.... yum! So, you've got all your favourite fudge flavours but how can you make it more exciting? We've got some easy fudge platter ideas for you this festive season.
Enjoy these delicious and beautiful arrangements filled with your favourite divine flavours to entertain your guest and make every get-together fun and enjoyable.
Mid Century Merry Go Round Platter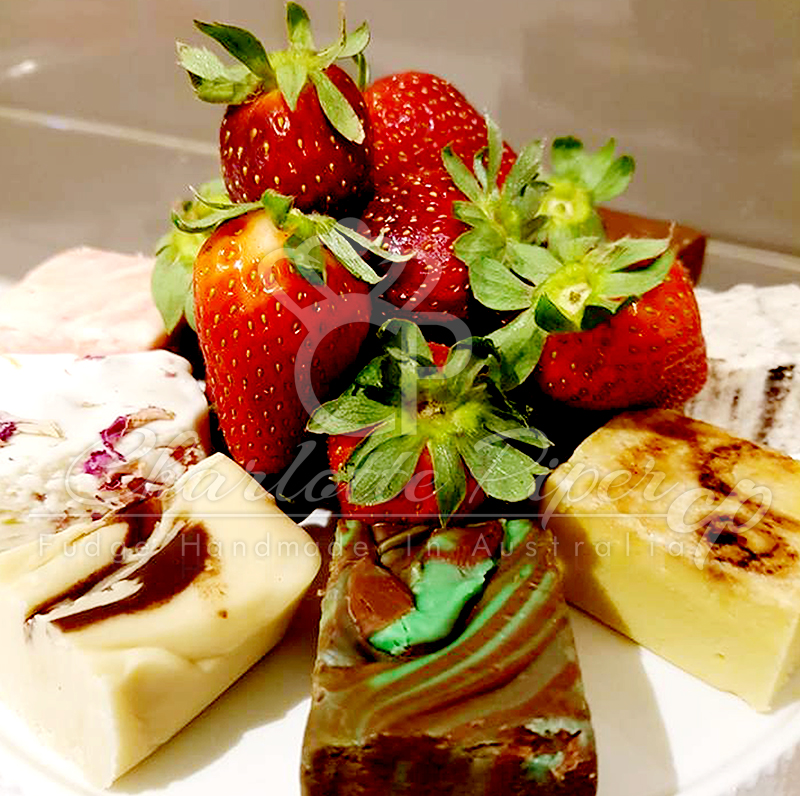 It's so easy to do... yet so pleasing in the eye. The Mid Century Merry Go Round Platter can be put at the center of your table together with other dishes or you can do multiple similar arrangements like 2 small round platters on left and right and a big platter at the center.
You'll need:
1 Oval platter or Franciscan style round tray (recommended)
6 to 8 pieces 80g bars of fudge
6-10 pieces of your center top fruit ideally, strawberries
The Fun Part:
Arrange your 80g bars of fudge to form a circle then top with your fruits. So easy right?
Holiday Bites Platter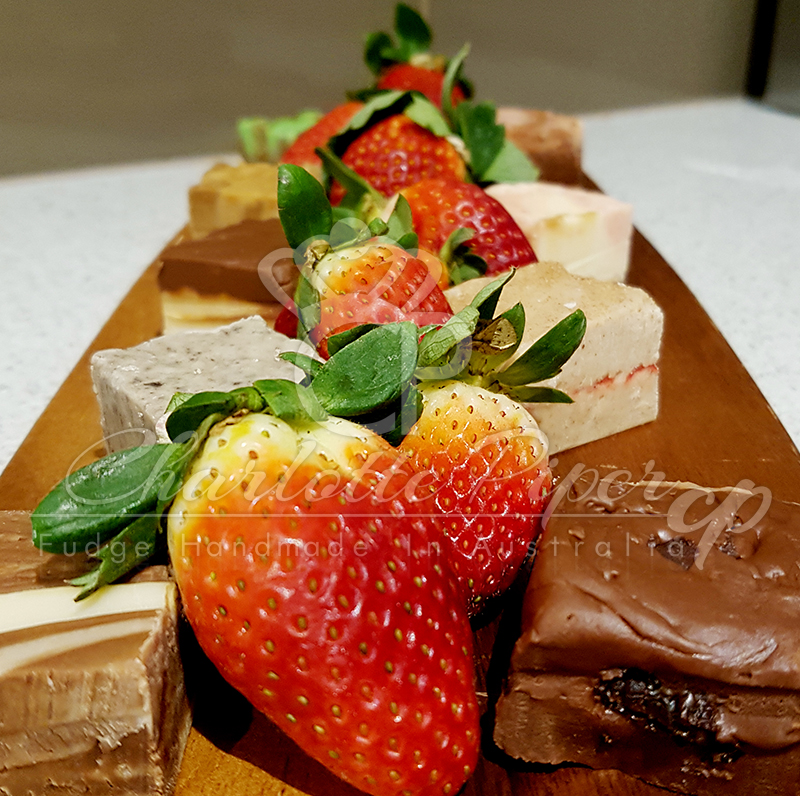 This platter will entertain kids and big kids too. Guess who will sneak out the first bite? lol
You'll need:
1 Wood Rectangle Paddleboard (We've used the Laguiole France Jean Neron Acacia Wood Paddleboard)
Option 1: 2 to 3 pieces 150g bars of fudge or 4-8 pieces of
Option 2: 6 or 12 piece Taste Teaser Surprise Box or 16 piece Gift Box
6-10 pieces fruits to put at the center: Strawberries, Raspberries, Cherries (We've used Strawberries) Small to medium sized fruits is recommended
The Fun Part:
Cut your 150g bar of fudge into cubes of 1.5" x 1.5" . A 150g bar of fudge can have 4 equal slices while the 80g bar can make 2 to 3 smaller sizes.
If you find cutting stressful, no problem, we have the Taste Teasers and 16 piece Gift Box with fudge bites readily cut! Yay!!!
Align your left group of fudge with spaces in between. Make a space for your fruits then align the right group. Position your right bites aligned to empty spaces between your left bar of fudge.
Fill the center empty space with your favourite fruits.
Boho Chic Platter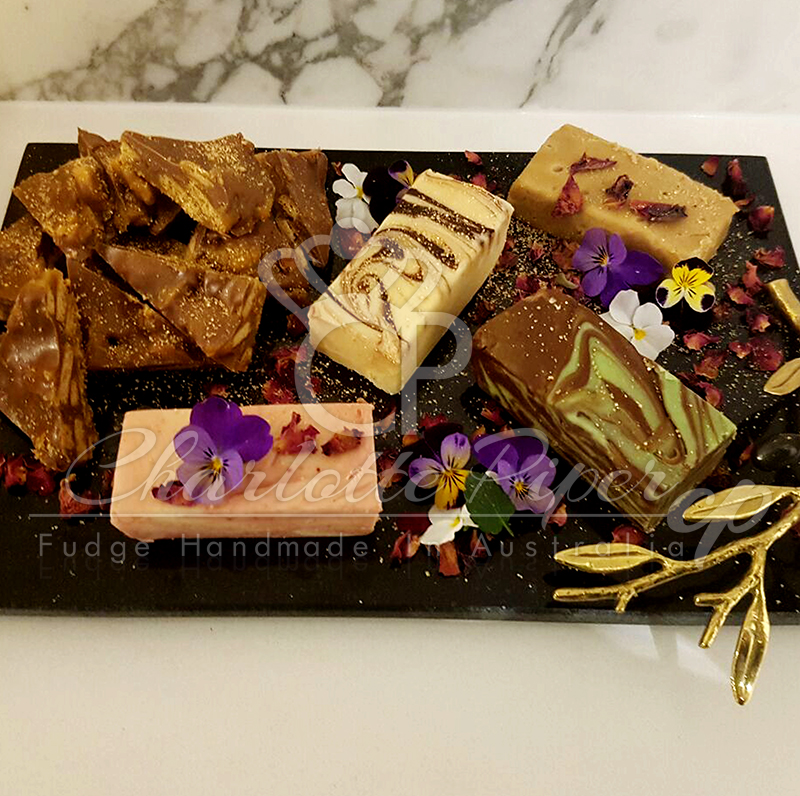 What an adorable setup to delight your guest! So you have that Bold and Vivid Bohemian ambience but you need a welcoming table set up to complete your desired look. No problem! Here's a very easy platter you can do for your Boho Chic set up. Be creative style and make your own twist! :)
You'll need:
4-6 pieces of 80g bars of fudge
Dessert pieces like Christmas puddings, fruits and cookies
1 Rustic / Vintage Style tray is recommended but you can use what you only have at home ( We have used a black marble tray to match our setting)
Edible petals and flowers to scatter or small vases with flowers
Sesame seeds / Sugar
1 Gold metal leaf decor
Other elements you can put: Table napkins (Pick a colour that matches your overall palette, coloured glasses, patterned placemats and candles
The fun part
Arrange your 80g bars of fudge at your tray in opposite positions. Place your metal leaf decor on the side or what you have. You may also put other dessert groups on the opposite side like cookies and fruits.
Sprinkle with edible flowers, sugar or sesame seeds to complete the look.
Level up the arrangement by putting your colourful glasses and placemats in boho pattern designs, small vases full of flowers and napkins.
Crazy Sweet Honey Platter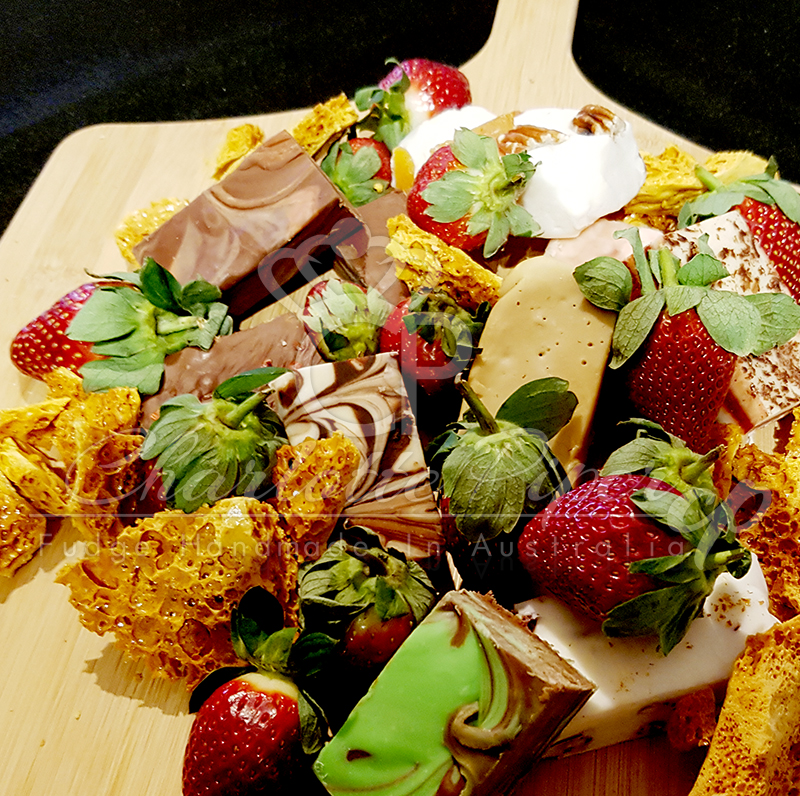 It's the most festive season! So, everyone in the family is here...including your crazy uncles and kids! This platter is a fun assortment of honey, fruits and fudge. Wow... so delicious!
You'll need:
1 Wooden paddleboard (We've used a rounded square paddleboard)
Honeycomb slices
Fresh fruits
80g bars of fudge
The fun part
No rules, no standards — it's crazy! Drop your fudge bars and fruits (bigger fruits first to small) then scatter and top with your honeycomb slices.
Classic Divine Platters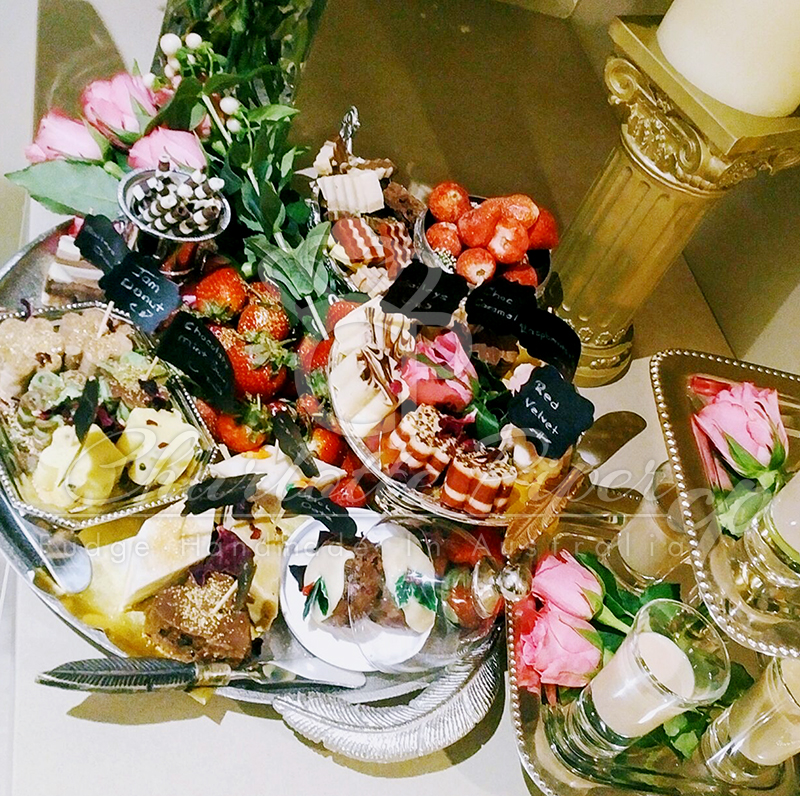 When you need that traditional, elegant and grand table setting be inspired with our Classic Divine Platter. This type of set up is ideally for accommodating large group of people and longer table spaces. Impress everyone with a nice food presentation in style.
You'll need:
1 Large Round Silver tray
1 Round cake stand with lid
2 Small silver trays
1 Serving stand, two tiers
Edible Flowers or Fresh Pink Roses cleaned and cut
Wafer Sticks
Christmas Puddings
Fresh fruits (we have used strawberries)
Dessert cuts and pieces
80g / 150g bars of fudge
Labels with sticks
1 Gold Pillar Candle Holder or any elegant looking candle holder you have
Candles (small)
The fun part
Cut your fudges in any shape you prefer. Play around big and small sizes. Be creative and group your fudges according color, types or shapes.
Prepare your labels with sticks preferably wooden or metal. Stick around fudge flavour groups. Place the fudges in small trays together with random cuts of your desserts and fruits. Note: Put the big fruits first.
Arrange your christmas puddings at your round cake stand with lid.
Drop some wafer sticks on your metal bowl.
When all small trays are ready, put arranged smaller trays in your Big tray.
Be mindful of your balance. We advice to put the 2 tier stand at the back and the smaller trays in front.
If you have an extra 2 or 3 layer stand, arrange your candles in 4 corners.
Put some fresh flowers on the side or sprinkle all around if you have edible flowers.
Lastly, place your Gold Pillar Candle Holder at the back and light it up!
Fudge Maker Tip: Fudge Flavour Selection Options:
a. Assorted colours of fudge - pick random fun assortments of your favourite flavours
b. Alternate mix- Pick 2 contrasting coloured fudge e.g. Chocolate and Baileys
c. One-colour concept - Pick same colour group of fudges e.g. Bavarian Raspberry, Cherry Delight, Chocolate and Raspberry, Strawberry and Chocolate and Red Velvet
These are just easy and simple diy platters you can do for the holiday season but sky is the limit, play around different styles and arrangements for your events. Have a safe and joyous holiday season!