Charlotte Piper supported the Buy a Bale Fundraising Program
This initiative aim to support Aussie farmers and rural communities in Australia and help them recover from the drought. With the help of the Rural Aid Australia Organization, this program will help our farmers feel that they're not forgotten. Rural Aid is registered with the Australian Charities and Profit Commission and is authorised to accept charity donations.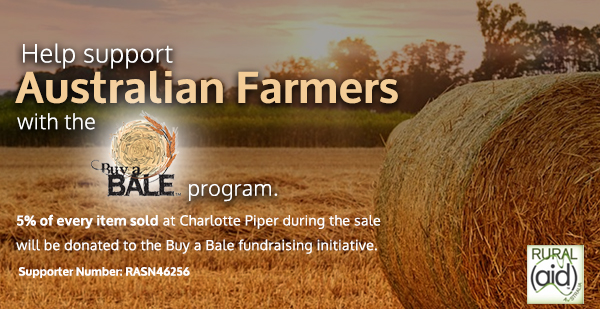 Fundraising Details:
Supporter Number: RASN46256
Registered For: Holding a Fundraising Event
Event Organiser: Charlotte Piper
Authorised on: 08/08/2018
With the successful AfterYAYday sale held
last
16th to 19th August. 5% of every item sold will go to this campaign.
Charlotte Piper has given 10% OFF to customers and every item sold at the website has been donated to our farmers.
This activity has helped Aussie customers in lending a helping hand to make a difference in the lives of our dear farmers while enjoying our yummy treats!